The official signature of the JAIST-Loria collaborative project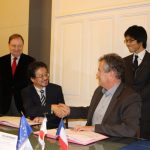 The collaborative project between the Loria (University of Lorraine, Inria and CNRS) and the JAIST (Japan Advanced Institute of Science and Technology) based in Kanazawa (Japan) was made official on Thursday November 3rd at 6 p.m. at Nancy Town Hall (Mairie). Those present included Jean-Michel Berlemont, Nancy's International Relations Deputy Mayor and Romain Pierronnet, Delegate Municipal Digital Councillor, Pierre Mutzenhardt, President of the University of Lorraine and Satoshi Tojo, Dean of the JAIST. This agreement was made in the framework of the twin towns partnership between Nancy and Kanazawa.
Both laboratories are internationally well-known and reputed for their scientific excellence in the field of computing. The signature of this collaborative project was made officially international by a Memorandum Of Understanding. The project's aim is to work on concrete joint scientific projects, strengthen university relations particularly through the recognition of degrees, supervision of doctoral students and exchange programmes for students, teacher-researchers and researchers.
The two laboratories have progressed in similar ways over the last twenty years. Today they are of equivalent size in terms of personnel and both are strongly rooted in their local contexts on the scientific, technological, academic and economic levels. Finally they work a number of common research themes such as high performance calculation, safety and security in computing, robotics, computer networks, image analysis or automatic natural language and music processing.
The creation of these new international synergies in favour of computer science research is based on a core of active teacher-researchers who already work together in the fields of robotics and security. The signature of this Memorandum Of Understanding followed on from the organization of a workshop Franco-Japanese workshop which took place at the Loria on the same day and promises to lead to many other such workshops.
"I hope that the scientific collaboration which link these two major laboratories will last as long as the twin towns partnership between the towns of Nancy and Kanazawa" concluded the President of the University of Lorraine.