Information about Covid-19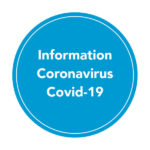 Date of creation: 2020/03/18 – Update: 2021/11/17

 Information in French
General information:
How can I access the site?

The site will be open on weekdays from 7am to 10pm (reception open between 8am and 6pm only) and on weekends and public holidays from 9am to 9pm.
Access to the site is authorized for external visitors, by invitation and on condition that they respect the same sanitary rules (barrier gestures and wearing of masks) as the staff. It is therefore necessary to inform the receptionists.

 Face-to-face work

Face-to-face work will be done according to your employer's instructions.
CNRS // Inria // Université de Lorraine
It is compulsory to wear a mask outside and in all parts of the building except inside your office if you are alone.
Please use the mask distributed by your employer or approved as category 1. In all circumstances, we ask you to respect the barrier measures: a distance of 2m between each person, respecting the gauges (4m2/pers), disinfecting the surfaces touched (hand towels and hydro-alcoholic gel) and ventilating the offices and meeting rooms.

Meetings and videoconferences

Reservation of all meeting rooms will again be possible, through the reception desk or your department/team assistants.
Instructions and gauges posted on the doors.
Gauges :
A008 : 30
A006 : 10
C005 : 20
C009 : 5
B009 : 3
B011 : 6
B013 : 12
Amphi : 120 (half Day) ; 80 (whole day)
Can we go on mission?
Please comply with your employer's instructions and coordinate with your team assistant and the centre/lab management to obtain their validation.
Information :
CNRS / Université de Lorraine / Inria
Gatherings

If you are organising an event, you will have to request and keep the information (personal data + contact information (e-mail, telephone)) of all participants for 3 weeks after the end of the event.

Health pass

According to the DGESIP document of 05/08/2021, the control of the health pass is mandatory for all participants in an event/meeting as soon as it gathers at least 50 people simultaneously and it welcomes participants from outside the institution.
The health pass is not mandatory for thesis defenses that are open to the public or for scientific events with less than 50 people attending.
The moments of conviviality related to these events (coffee breaks, meals, drinks) are subject to the pass obligation.
The activities or moments of conviviality inside the center/lab are not subject to the control of the health pass.
More information :
Useful tools for remote work
Université de Lorraine Tools

CNRS Tools
More information on the CNRS intranet
General information