Colloquium Loria: Analogy and language data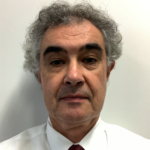 The next Loria Colloquium will take place on Wednesday, November 15 at 1:30 p.m. in the amphitheater.
We are delighted to welcome Yves Lepage, Professor at Waseda University. His presentation will be held in French.
Analogie et données de langue
Historiquement, la notion technique d'analogie (A est à B ce que C est à D) est immédiatement passée des mathématiques (nombres naturels) à l'étude de la forme des mots et à l'étude de leur sens. Elle apparaît implicitement en linguistique comparative, puis explicitement à la naissance de la linguistique moderne. En traitement automatique des langues, elle a été utilisée en morphologie computationelle et en sémantique distributionnelle. Cet exposé traitera de l'analogie entre données de langue, essentiellement textuelles, qu'il s'agisse de caractères, de formes lexicales, de chunks, de N-grammes ou de phrases, sous forme de chaînes ou de représentations vectorielles.
People from outside the laboratory can register before November 13 by contacting Mariana Diaz: mariana.diaz(at)loria.fr.