Guido: A robot-guide at MUDAM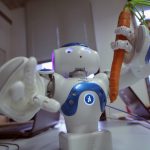 Connections between the visual arts and technology are the focus of a new exhibit, Eppur si muove (And yet it turns), open through January 2016 at the Musée d'Art Moderne du Luxembourg (MUDAM) in collaboration with the Musée des Arts et Métiers in Paris. Fully embodying the exhibit's theme, our interactive robot Guido will greet visitors and comment on the exhibit as a guide.

Robot-guide as art project
What could be more original than being greeted by a robot in a museum and discussing the art together? This is the idea behind Guido's development. An integrated part of the exhibit, this humanoid centaur robot will no doubt surprise the museum's visitors with its communicative abilities and slightly provocative attitude.
At the MUDAM's invitation, the French artist Paul Granjon from the University of Cardiff, known for his work on human-machine co-evolution, created the original concept for this interactive work of art. Working in collaboration with Patrick Hénaff and Alain Dutech on the scientific and technical implementation, Granjon imagined a humanoid robot with an off-beat sense of humor. And what could be more human than a sense of humor?
Granjon wanted it to be a "centaur" robot, on wheels for easy movement around the museum, but with a humanoid face and a quirky and humorous attitude to interact with visitors like a human guide, greeting and accompanying them throughout the MUDAM's galleries.
But how would this humor and quirkiness be created? To start with, several scenarios were set up in advance based on the works on exhibit and the space, but students remotely controlling the robot will also use a special interface to enhance the robot's interactions. The person piloting the robot will be able to see who the robot is talking to and adjust its speech to fit. This combination guarantees surprises!
Unprecedented project brings together 15 students from different fields
Developed in Nancy's ARTEM (Art, Technology, Management) collaborative workshops, this multidisciplinary project involves fifteen students from three schools – ICN, Mines Nancy, and the School of Fine Arts – with their teachers Patrick Hénaff, Pascal Vaxivière, Maxime Marion and Alain Dutech. With very different but complementary backgrounds, the team divided the project into specialized tasks: the ICN students worked on communication and financing, the Fine Arts students focused on the aesthetic and interactive aspects of the robot, and the Mines Nancy students were in charge of programming the robot and technical adaptations. The project was full of new challenges for the students, like working with ROS (Robotic Operation Systems) for the first time. "We had to develop navigation and obstacle-avoidance algorithms" explained Patrick Hénaff, professor at Mines Nancy and researcher at LORIA. In practical terms, the robot will be autonomous but can also be remotely controlled by museum staff, thanks to the robot's integrated camera and captors. While Guido's initial purpose is tied to the museum context, the robot can also be used to help carry out research projects. All interactive data will be recorded so that the robot's personality can be designed and adjusted according to compiled data patterns. And the line separating Art and Science continues to blur!
Partner institutions: CNAM, Mines Nancy, ARTEM, Fondation Mines, ARTEM Entreprises, MUDAM, CUGN, and LORIA.