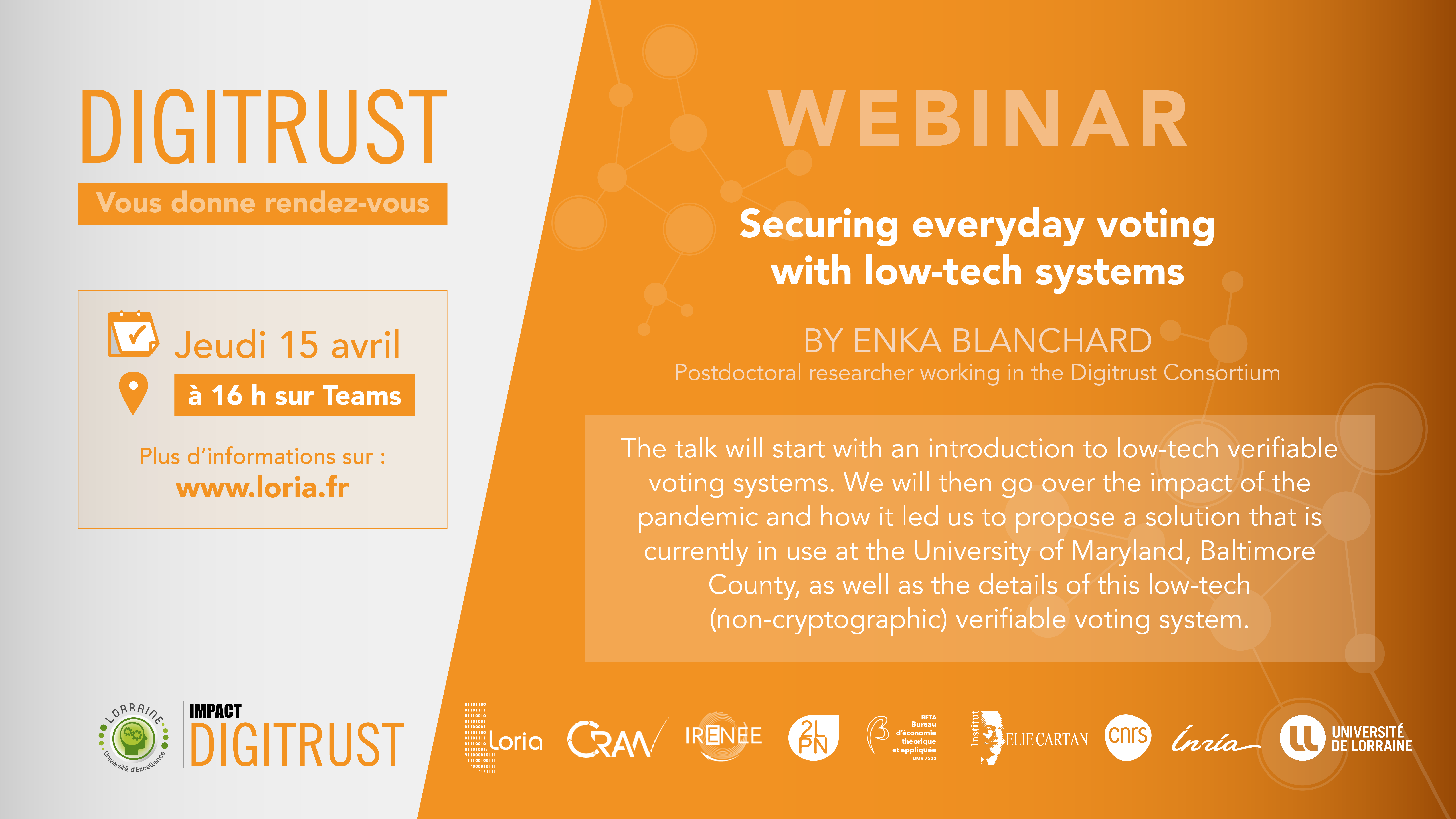 The second webinar of LUE IMPACT project DigiTrust will take place on Thursday, 15th April at 4pm.
Postdoctoral Researcher Enka Blanchard, working in the DigiTrust consortium, will give a presentation entitled "Securing everyday voting with low-tech systems"
The webinar will take place on Teams.
Abstract:
Voting is often seen as a solemn activity, with voters exercising their rights every few years in secure conditions. However, many voting activities happen in much more common situations, from company boardrooms to homeowners associations or employee breakrooms. Those votes often happen by raising one's hand or at best writing down a name on a piece of paper and putting it into a hat. With the pandemic, those votes have been harder to organise, creating a vacuum for new systems to take hold, and potentially presenting new opportunities.
The talk will start with an introduction to low-tech verifiable voting systems. We will then go over the impact of the pandemic and how it led us to propose a solution that is currently in use at the University of Maryland, Baltimore County, as well as the details of this low-tech (non-cryptographic) verifiable voting system. Finally, I will discuss the implications this has not only for the development but more importantly for the deployment of new voting systems.
The talk is based on research I recently pursued with colleagues from UMBC and LaBRI. The relevant papers and preprints are available below:
Enka Blanchard and Ted Selker. Origami voting: a non-cryptographic approach to transparent ballot verification. In VOTING – 5th Workshop on Advances in Secure Electronic
Voting (https://hal.archives-ouvertes.fr/hal-02550738)
Enka Blanchard, Ryan Robucci, Ted Selker, and Alan T. Sherman. Phrase-verified voting: Verifiable low-tech remote boardroom voting. under review
Enka Blanchard, Sébastien Bouchard, and Ted Selker. Visual secrets: A recognition-based security primitive and its use for boardroom voting. under review