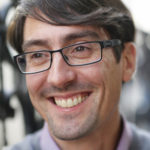 La colloquium Loria a le plaisir d'accueillir Michel Dumontier, professeur distingué de science des données à l'Université de Maastricht. Son exposé se déroulera le vendredi 25 septembre – heure à définir, sous réserve de faisabilité – dans l'amphithéâtre du Loria. Il sera en anglais.
Titre de l'exposé : Accelerating biomedical discovery with an Internet of FAIR data and services
Résumé : With its focus on improving the health and well being of people, biomedicine has always been a fertile, if not challenging domain for computational discovery science. Indeed, the existence of millions of scientific articles, thousands of databases, and hundreds of ontologies, offer exciting opportunities to reuse our collective knowledge, were we not stymied by incompatible formats, overlapping and incomplete vocabularies, unclear licensing, and heterogeneous access points. In this talk, I will discuss our work to create computational standards, platforms, and methods to wrangle knowledge into simple, but effective representations based on semantic web technologies that are maximally FAIR – Findable, Accessible, Interoperable, and Reuseable – and to further use these for biomedical knowledge discovery. But only with additional crucial developments will this emerging Internet of FAIR data and services enable automated scientific discovery on a global scale.
Bio : Dr. Michel Dumontier is the Distinguished Professor of Data Science at Maastricht University and co-founder of the FAIR (Findable, Accessible, Interoperable and Reusable) data principles. His research focuses on the development of computational methods for scalable and responsible discovery science. Previously at Stanford University, Dr. Dumontier now leads the interfaculty Institute of Data Science at Maastricht University to develop sociotechnological systems for accelerating scientific discovery, improving human health and well-being, and empowering communities with ethical data-driven decision making. He is a principal investigator in the Dutch National Research Agenda, the European Open Science Cloud, the NCATS Biomedical Data Translator, and many other funding programs. He is the editor-in-chief for the journal Data Science and an associate editor for the journal Semantic Web. He is internationally recognized for his contributions in bioinformatics, biomedical informatics, and semantic technologies including ontologies and linked data.
Les personnes extérieures au laboratoire doivent s'inscrire auprès de annabelle.arena[@]loria.fr avant le jeudi 24 septembre 2020.
---
Le colloquium Loria a pour objectif de mettre en lumière différentes thématiques de recherche en informatique sous la forme d'un exposé d'un scientifique de renom durant une heure comprenant un temps d'échange. Il est ouvert à tous et a lieu chaque mois au Laboratoire lorrain de recherche en informatique et ses applications.