Sébastien Duval joins Caramba team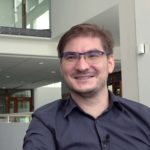 Sébastien Duval joined the Caramba team, shared by Inria and Loria (CNRS, Inria, Université de Lorraine) as an Associate Professor at the Université de Lorraine last September.
Originally from Mulhouse, mathematics and computer science led him into the paths of symmetric cryptography. After studying at the University of Versailles, Télécom Paris, Sorbonne Université, and the Catholic University of Louvain, he joined the Faculty of Science and Technology of the University of Lorraine and the Loria to teach and research on the protection of connected objects.