David Ritchie has passed away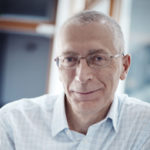 It is with great sadness that we inform you of the passing of David Ritchie, Inria Senior Scientist and Head of the research team Capsid, common to Inria and Loria.
David Ritchie passed away on Sunday, 15 September, in the Nancy hospital, from a cancer he had been fighting with tenacity for two years . His kindness, his sense of humour, as well as his inestimable creativity and scientific expertise had made him a pillar of the Inria Nancy-Grand Est centre. The respect and care of his colleagues have accompanied and supported him throughout this difficult time.
« Quietly and without saying anything, Dave gave us all a great lesson of courage. Until the end he remained faithful to his commitments, looking after his colleagues, and keeping his sense of humour. He was always lucid on his disease : striving to learn everything about it, and refusing to forego what he cherished most : his research activities, » testifies Marie-Dominique Devignes, joint-head of the Capsid research team with David Ritchie.
A pioneer in bioinformatics
David Ritchie integrated the Inria Nancy-Grand Est centre as part of the Orpailleur research team, common to Inria and Loria, in 2008, with only one goal in mind : to do some research! In his native Scotland, he had been a lecturer in computing science at the University of Aberdeen. Although the job was interesting, it didn't leave him enough time for his passion : modeling the interactions between molecules in living organisms. So he decided to devote himself entirely to his research project and move to Nancy thanks to an « Excellence Chair » from the ANR (French National Research Agency) for invited scientists, to develop high-performance algorithms for structural biology. In 2011 he was recruted as an Inria Senior Scientist, after drafting the 150 pages of his Accreditation to Supervise Research thesis (French d'Habilitation à Rédiger des Recherches) in French : a real challenge in which he put all his heart !
At the time, David Ritchie was a pioneer : instead of mapping the relative positions of two interacting proteins with cartesian coordinates (the x, y, and z axes generally taught in school), he used spherical coordinates. Starting from a « central » point at the centre of one of the molecules, he would map its surface points, as well as those from the other molecule thanks to their distance and angle to this central point. This paradigm shift, called « spherical polar Fourier correlations » by experts, positioned him as a lead figure in his area.
Researcher and entrepreneur
David Ritchie was also amongst the first scientists to adapt the calculations related to the docking of two proteins to GPUs (Graphics Processing Units, that multiply the calculation speed of computers). He was thus able to multiply by 50 the calculation speed of his very first docking algorithm (Hex) ! Following that, he created a new technique to classify proteins according to their shapes and he built a reference database to model new protein interactions by homology. All these progresses contributed to better understanding the thousands of protein complexes which formation is essential to the life of our cells.
His research also led to the creation of the start-up Harmonic Pharma, in 2009. It identifies potential new therapeutic targets for already existing molecules, based on their structures and possible interactions in the organism.
David Ritchie created his own research team, Capsid, common to Inria and Loria, in 2015. At the interface between computer science and systems biology, it aims to develop innovative softwares to study the large biological structures made of several subunits, that are more complicated to model. Together with his team membres, David Ritchie also built collaborations with hospitals in Nancy and contributed to facilitating the interpretation of bio-medical and clinical studies.
He was struck by cancer in 2017, and started sharing the responsibility of Capsid with Maire-Dominique Devignes, while still remaining involved in the life and projects of the team.
We will miss him dearly.
---
Editor of the article: Isabelle Kling, communication head at Inria Nancy Grand-Est.