Colloquium : Damien Ernst, Energy and AI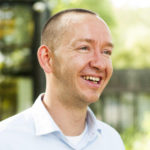 Damien Ernst is the guest of the next Colloquium Loria which takes place on Thursday, November 7th, at 1:30 pm in Loria's amphitheatre.
Professor at the University of Liège, his research focuses on electrical networks and AI (artificiel intelligence) technologies.
Title : ''Active Network Management for Distribution Networks''
Abstract :
In this talk, Damien Ernst will describe the challenges of integrating renewable energy and demand side management – two key components of microgrids – into Distribution Networks (DNs). He will argue that an integrated approach for redisigning the different steps of the decision chain for managing distribution network is needed. This decision chain is made of four elements: choice of the interaction model between the different actors of the electrical system, investment decisions, operational planning and real-time control. Afterwards, he will present the results obtained within recent projets that are aimed at optimizing globally the full decision chain.
Share this information around you ! People who are not member of Loria has to register to annabelle.arena@loria.fr before Tuesday, November 6th.